LOCATION & ACCESS
The Hyogo Hokusetsu region is close by, with easy access to metropolitan areas, such as Osaka and Kobe, and is perfect as a hub for sightseeing and staying overnight.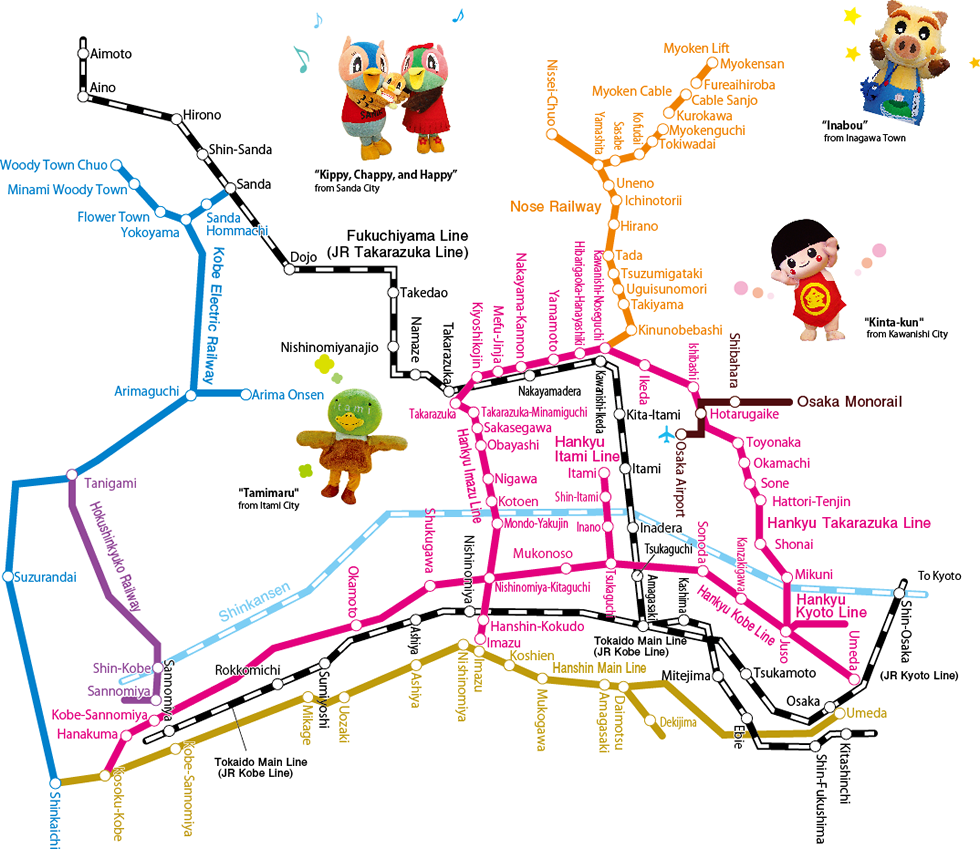 Tourist Information Desk (multilingual support available)
English-, Chinese-, and Korean-speaking staff members always are available at the Hyogo Tourist Information Desk, and respond to inquiries from tourists.
Hyogo Tourism Association, Tourist Information Desk (TID)
(7F of Hyogo Prefectural Office Bldg. 1, 5-10-1 Shimoyamate-dori, Chuo-ku, Kobe City)
TEL :
078-361-7661
E-mail :
info@hyogo-tourism.jp
※ Please note that telephone response is unavailable on some days due to the absence of staff members.
Hyogo Hokusetsu Region's multilingual websites for public transportation
■West Japan Railway

〔English, Chinese (traditional and simplified), and Korean languages available〕
■Hankyu Railway

〔English, Chinese (traditional and simplified), and Korean languages available〕

Contact infomation fo sightseeing in cities and towns in Hyogo Hokusetsu
Contact for general tourist information on Itami City
Itami Tourism and Local Products Association
1-6-2 Higashi-Arioka, Itami City, 664-0845 (Within JR Itami Sta.)
[Open]9:00-19:00 (excluding year-end and New Year holidays)
Contact for general tourist information on Takarazuka City
Takarazuka International Tourism Association
1-1 Toyo-cho, Takarazuka City, 665-8665 (within Takarazuka City Hall)
[Open] Weekdays: 9:00-17:30 (excluding year-end and New Year holidays)
Contact for general tourist information on Kawanishi City
Kawanishi City Tourism Association
12-1 Chuo-cho, Kawanishi City, 666-8501 (within Kawanishi City Hall)
[Open] Weekdays: 9:00-17:30 (excluding year-end and New Year holidays)
Contact for general tourist information on Sanda City
Sanda Information Center (Kippy Navi)
1-31 Ekimae-cho, Sanda City, 666-1529 (on the pedestrian deck in front of Sanda Sta.)
[Open]9:00-17:00 (excluding year-end and New Year holidays)
Contact for general tourist information on Inagawa Town
Inagawa Town Tourism Association
11-1 Kitabatake, Ueno, Inagawa-cho, 666-0292 (within Inagawa Town Hall)
[Open] Weekdays: 8:45-17:30 (excluding year-end and New Year holidays)