Less than an hour's drive from Osaka and Kobe in the northeastern part of the Hanshin area, enjoy the magnificent scenery of the four seasons at Inagawa Town. Come feel the charm of Oya Alps Land at the summit of the highest peak in the Hanshin area, Mt. Oya!
★ 753m above sea level! Oya Alps Land looks out over Kansai
From the summit of Mt. Oya in northern Inagawa Town, a 360-degree view unfolds before you, revealing the majestic Rokko and Hokusetsu mountains, as well as the glittering city night views of Kobe and Osaka. On clear days, the tallest building in Japan, Abeno Harukas, comes into view as well as the Seto Inland Sea beyond.

↑Enjoy the landscape blanketed in winter snow.
★ Inagawa Astronomical Observatory Astropia
From the entrance of Oya Alps Land, follow the promenade surrounded by hydrangea blossoms and you'll find the Astropia, which is the Inagawa Astronomical Observatory equipped with a digital planetarium and a reflecting telescope.
No reservation is required, so drop in whenever you feel the urge to gaze upon the stars and encounter the mysteries of the universe.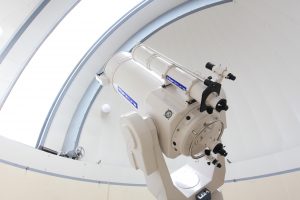 ↑50cm reflecting telescope
This telescope gathers 5,000 times more light than the naked eye, unveiling Saturn's rings, Mars, and Jupiter.
★The selection of Sanctuary of Lovers
Under starry skies, the sweeping view that encompasses the sparkling night views imbues this place with a sense of romance that inspires proposals of marriage. Thus, in April 2019, a distinguished committee, led by international fashion designer Yumi Katsura, chose this place as the "Sanctuary of Lovers."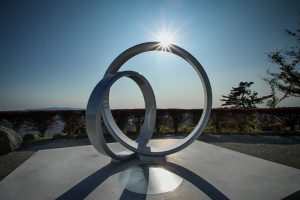 ↑A memorial monument in the shape of a ring
★ A campsite amid the vastness of nature
Full on camping is also possible on Mt. Oya.
Enjoy sleeping in your tent or barbecuing in this campsite for free.
Because of its easy access, fans come here from all over the country.
*It reopened on December 24, 2020 after temporally closing.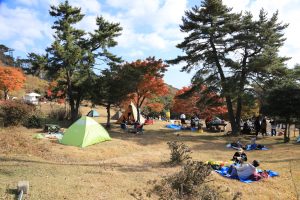 ↑The campsite scenery
★Mt. Oya rock tour
On Mt. Oya there are massive stones several times the height of a person, many with interesting shapes that have earned them nicknames such as "Taikoiwa" (Drum Rock) and "Meotoiwa" (Married Couple Rock). A hiking course has been designed for a lovely stroll through the flowers and natural splendor of Hanshin.
Oya Alps Land is also making efforts to keep the park in great shape. Volunteers from both inside and outside the town participate in events to maintain today's beautiful scenery for the future.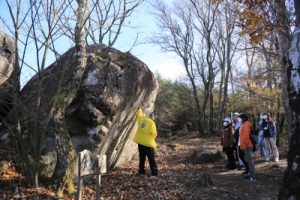 ↑Giant rock "Meotoiwa"
<Access>
Oya Alps Land / Inagawa Astronomical Observatory Astropia
Address: 1-1 Onogadake, Kashihara, Inagawa-cho, Hyogo
By Car: Shin-Meishin Expressway → Kawanishi IC → 30 min. by car
Check out this video for more on Oya Alps Land attractions!
Youtube: https://youtu.be/mAQKmJLgW6k
Check here for other spots in Inagawa Town ♪
https://visithanshin.jp/en/area/inagawa/