The Kawanishi Tourism Princesses are sightseeing ambassadors from the area who promote the many
attractions in Kawanishi City. Active in festivals and events, only three Tourism Princesses are selected
every year. Currently, Kana Ishikawa, Nanami Takida, and Anna Tanaka are on duty.
In this interview we heard from Ms. Ishikawa and Ms. Takida about the beauty of Kawanishi City and
their activities as Kawanishi Tourism Princesses.
What inspired you to apply to be a Kawanishi Tourism Princess?

Ms. Ishikawa (right): As a child, I spent a lot of time with nature through events in Kawanishi City. Now,as an adult, I applied for the position with the hope of giving something back to Kawanishi City. Ms. Takida (left): I decided to apply because I love Kawanishi City and wanted to contribute to society. Another reason was that I knew one of the Kawanishi Tourism Princesses from a previous year and I saw how much she enjoyed her activities throughout the year.
What kind of activities are the Kawanishi Tourism Princesses engaged in?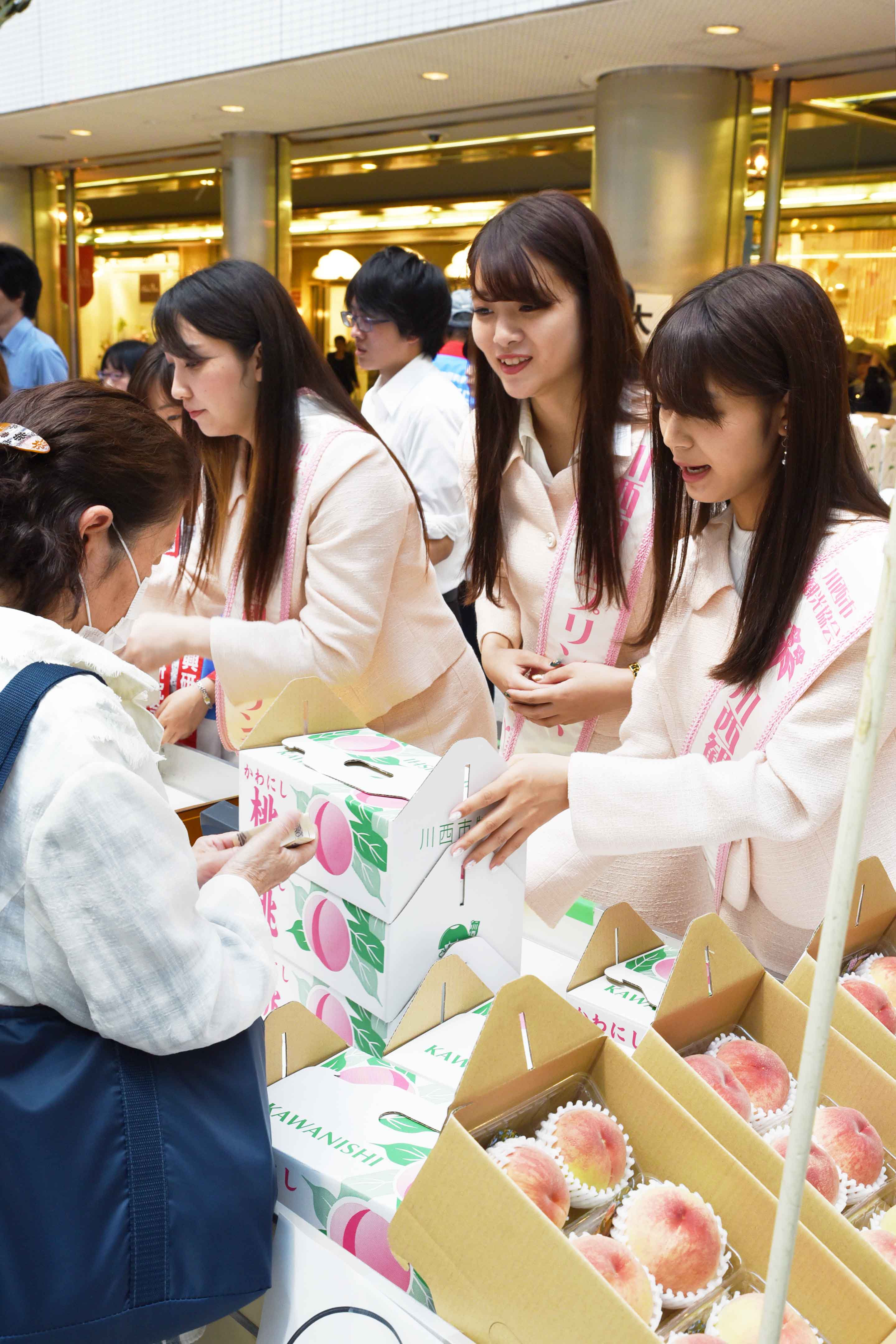 We promote the attractions in Kawanishi, both within the city and beyond. As PR for special locally produced goods, we act as representatives every year at sales events held during the fig and peach seasons. At the peach sale event, customers started to line up from 5 a.m., and everything was sold out in no time!
We also take part in events such as the Kintoki Festival held at Manganji Temple.
Manganji Temple and the Kintoki Festival
Manganji Temple is a historical temple in Kawanishi City said to have been built between 724 and 728. The temple is associated with the well-known Japanese fairy tale hero "Kintaro" because the character is modeled after the Heian era (8th-12th century) general, Sakata Kintoki, who is entombed there. The Kawanishi City character "Kinta-kun" is also based on the same Kintaro of Manganji Temple. Every year, May 5 is Children's Day and the "Kintoki Festival" is held at Manganji Temple to pray that children will grow strong like Kintaro in the fairy tales.
Address: 7-1 Manganji-cho, Kawanishi City, Hyogo
Access: From Hankyu Hibarigaoka-Hanayashiki Station, take the Hankyu Bus to Manganji-mae stop
What has been the most impressive activity so far?
It was the Seiwa Genji Festival, of course! This is a major event for Kawanishi Tourism Princesses as we get dressed in fine costumes and join a parade along the 3 km road from Tada-jinja Shrine. Held during the spring cherry blossom season, the roadsides were filled with people from both inside and outside the prefecture.
Seiwa Genji Festival
Tada-jinja Shrine is known as the birthplace of the Seiwa Genji clan, descendants of Emperor Seiwa. The Seiwa Genji Festival is held there on the 2nd Sunday of every April. The main attraction of the festival is the "Kaiko Gyoretsu" (Historical Procession) where people dress up as figures associated with the Genji clan and walk through the town in procession, attracting crowds of admirers who gather along the roadside to see the gorgeous parade. The Kawanishi Tourism Princesses dressed up as Tomoe Gozen, Tokiwa Gozen, and Shizuka Gozen, and thrilled onlookers with their stunning appearance.
Address: 1-1 Tadadokoro-cho, Tadain, Kawanishi City, Hyogo
Access: 15-minute walk from Nose Electric Railway Tada Station
* The venue will be moved to the area around Kawanishi-noseguchi Station from 2022.
Please tell us your recommendations in Kawanishi City, such as sightseeing spots and souvenirs.
Ms. Ishikawa: I recommend Mt. Myoken, where you can experience the changes of the four seasons throughout the year, including the panoramic view from the cable car. Also, at Oasis Town Kisera Kawanishi, there is a regular event called Machinaka Marche where local restaurants and shops sell their wares, and people can buy goods directly from the producers. This is a rare chance to interact with the locals, and it is also a revitalization effort for the town, so I would like everyone to come!
Ms. Takida: Cafes, flea markets, music festivals, and many other special events take place at Kisera Kawanishi Seseragi Park attached to Kisera Kawanishi where the Machinaka Marche is held. I hope everyone can come enjoy the local atmosphere of these events.
There are many souvenirs from Kawanishi, but I personally love Le Sud Chesapeake's fig tart!
Le Sud Chesapeake
A former chef from Rihga Royal Hotel's French restaurant "Chambord" now showcases his skills at the French restaurant Chesapeake. This well-established restaurant has been in business for 36 years and its desserts are also sold at their shop Le Sud Chesapeake, which is directly connected to Kawanishi-
noseguchi Station. The Kawanishi special fig tart recommended by Ms. Takida is a limited-edition dessert loved by locals that is only available in the store during fig growing season. The fig brandy cake, however, also made with Kawanishi figs, can be enjoyed all year round and is famous for its delicious aroma.
Address: 25-1-1305 Sakae-machi, Kawanishi City, Hyogo
Access: 2-minute walk from Hankyu Kawanishi-noseguchi Station
https://www.chesapeake.co.jp/kawanishi/
A message from the Kawanishi Tourism Princesses to those who have yet to visit Kawanishi City Kawanishi is a very comfortable city to live in, neither too rural nor too urban. Easily accessible at just 20 minutes by train from Umeda Station in the nearby city of Osaka, it's a great place to enjoy not only the natural splendor of Mt. Myoken and the Hitokura Dam, but also the pleasures of the local community through special events. Come and experience the warmth and friendship of Kawanishi City!

For related articles
For more on what Kawanishi City has to offer, check here!
【Fine fig foods from Kawanishi, Hyogo Prefecture!】
https://visithanshin.jp/enews/2034/
【Myoken no Mori Forest: Bathe in the lush nature of Japan's best "Satoyama"】
https://visithanshin.jp/enews/2159/
For other great spots in Kawanishi City♪
https://visithanshin.jp/en/area/kawanishi/