Did you know that there are four prefectural parks in the northern Hanshin area?
Summertime brings water parks and open-air museums on top of outdoor activities in the countryside, lawns to stretch out on, and a variety of other ways to enjoy yourself. Run, jump and play, or just chill out, relax and enjoy the day to the fullest.
Here are some of the best parks to visit!
Nishiina Park (Itami City and Kawanishi City)
This park straddles Itami City and Kawanishi City. Set amid lush greenery, the park attracts many athletes who come for the sports facilities, which include tennis courts and a ball game ground, as well as an observatory, Waterland, and much more.
The main attraction here is "Waterland." This 10,000-sq.-meter amusement area is large enough to accommodate about 2,000 fun-loving visitors at once.
The "Water Castle" combines fountains, tunnels, and slides, while the "Slider Zone" focuses on waterslides. The "Waterfall and Rock Zone" mixes rock climbing with white water currents, and the "Water Play Big Toy" is a fun fountain full of surprises that shoots water out of various shaped spouts. There are plenty of ways for children to have a great time.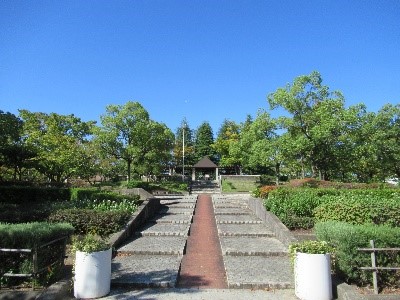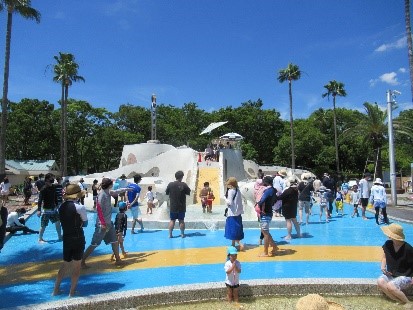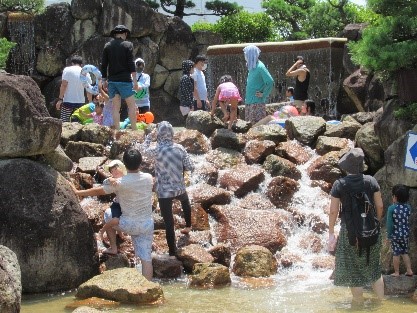 Access: 1-minute walk from JR Kita-Itami Station
For other great spots in Itami and Kawanishi♪
https://visithanshin.jp/en/area/itami/
https://visithanshin.jp/en/area/kawanishi/
Takarazuka Nishitani no Mori Park (Takarazuka City)
This suburban park makes the most of the rich natural environment in the pastoral foothills of the Nishitani area in northern Takarazuka City. Here we can learn from both nature and the wisdom of our ancestors.
This park is divided into three areas. In addition to the natural splendor around Hoyodani Pond in the "East Valley" area, the rural landscape of ancient Japan has been recreated in the "West Valley," where a thatched-roof house stands amid the fields. Visitors can enjoy agricultural experiences in rice fields, farms and orchards. Nearby, the observatory (altitude of about 350 meters) in the "Forest" area provides a stunning view of the surroundings.
Enjoy the rural landscape of a bygone age and the scenery of the four seasons along the 8km-long walking path.
At Takarazuka Nishitani no Mori Park, volunteer staff are central to seasonal programs that raise awareness about the importance of the forest while enjoying the park.
Why not join one of the various programs and experience the beauty of nature whether by yourself, with friends, or with family?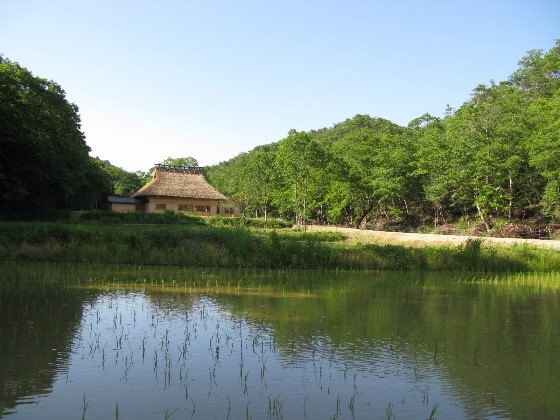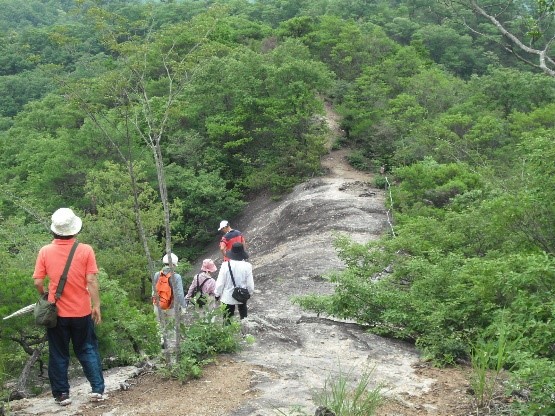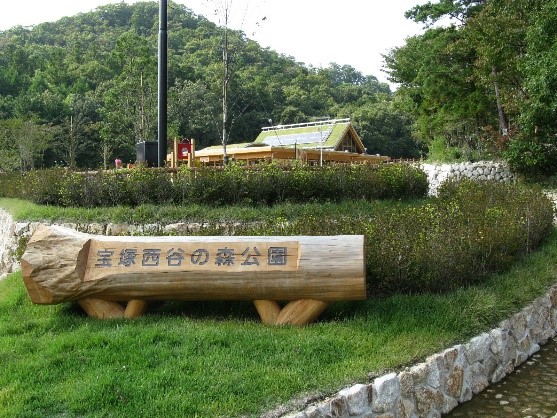 Access: From JR Takedao Station, take the Hankyu Bus to the Nishitaninomori koen-guchi stop and walk 10 minutes.
For other great spots in Takarazuka♪
https://visithanshin.jp/en/area/takarazuka/
Hitokura Park (Kawanishi City)
In Kawanishi City, Hitokura Park faces an artificial lake, Lake Chimyo, created by the Hitokura Dam. For more about this, see the article from May 20, 2021.
https://visithanshin.jp/enews/1827/
Arima-Fuji Park (Sanda City)
Boasting a vast area of 178.2 hectares abounding with lush nature, this is the largest city park in the prefecture.
Meeting Zone
Experience nature and observe wildlife amid the terraced rice paddies and village forest, bird-watching trails, and ecological gardens in the forests, ponds and grass lawns. In addition, visit the "Park Center," which has a multi-purpose hall and meeting rooms, useful as a venue for a variety of cultural activities, and the Sanda Arima Fuji Nature Study Center, an experiential facility for children. The "Kayabuki Minka" traditional Japanese thatched-roof house, with its recreated earthen floor featuring a kamado (cooking stove) and an ita-no-ma (wooden floor) with a sunken hearth, provides a glimpse of the traditional Japanese way of life.
The popular "Asobi no Okoku" (Play Kingdom) has unique playsets such as Kaminari's Fort, Onigafuji, and Dining Table of Oni (orge), created based on Sanda's folk tales. There's more than enough for a full day of fun in this area alone.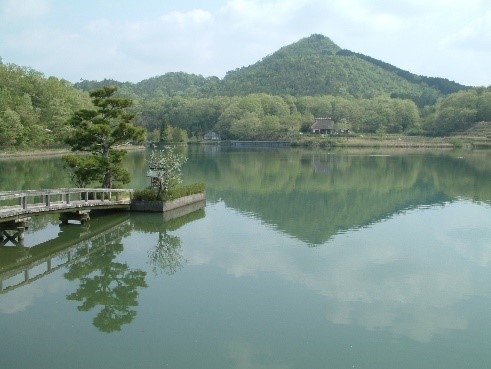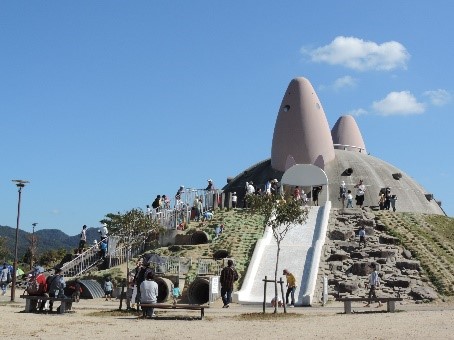 Resting Zone
The "Large Lawn Square" is a roughly two-hectare space used for various sporting events and recreational activities.
There is also the "Susumu Shingu Wind Museum," a permanent exhibition of 12 works by Susumu Shingu, a sculptor who lives in Sanda City, renowned for his works powered by the natural energy of wind and water.
Spend time amid this natural paradise and feel the invisible rhythms of nature.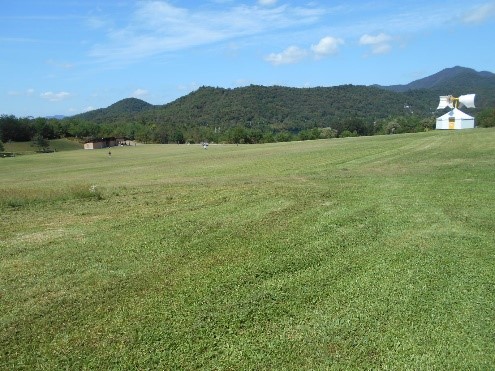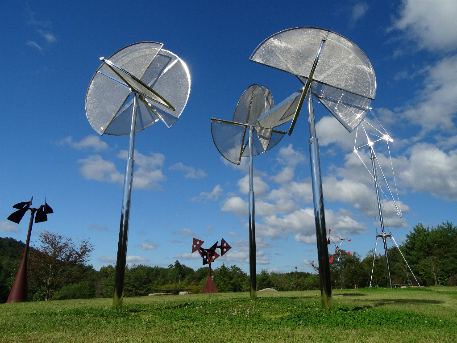 Access:
[Meeting Zone]
30-minute walk from JR Shin-Sanda Station
From JR Shin-Sanda Station, take the Shinki Bus to Arimafuji koen-mae stop
[Resting Zone]
From JR Sanda Station/Kobe Electric Railway Sanda Station, take the Shinki Bus to Ninji stop and walk 15 minutes
For other great spots in Sanda♪
https://visithanshin.jp/en/area/sanda/