The tourist information center called INFORMATION Hyogo/Kansai in Osaka International Airport (Itami Airport), introduces the highlights of Hyogo and Kansai alongside exhibitions of special local goods and great souvenir shopping.
Renovated in November 2020, the information center now includes a large display showing recommended attractions in Hyogo, as well as VR goggles for virtual visits to popular places. A variety of steps have been taken to make it easier for foreign and domestic travelers to grasp all that Hyogo has to offer.
Events showcasing special products are held from time to time, and the Hyogo Prefectural Hanshin North Area Tourism Promotion Council holds an annual tourism promotion event every autumn.
A wide range of brochures
Various brochures of Hyogo Prefecture are available. Take one or more of these to start your exploration of the area. If anything catches your eye, please let the staff of specialists know. They will be happy to provide you with tourist and product information or answer any questions you may have about your trip.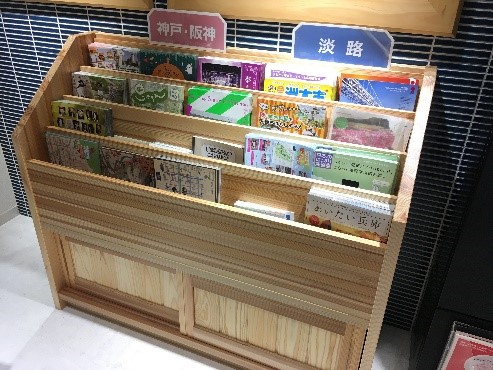 Walking on air with VR
Experience an aerial walk around Hyogo's sightseeing spots using VR goggles. Enjoy a trip around the area from the Sea of Japan to Awaji Island, all without leaving Itami Airport. Fifteen famous spots can be explored virtually this way.
Sightseeing information from digital signs
Get the latest on every area's travel spots and products. Easily find out what you want to know about where you want to go on the touch screen panel. The beauty and power of the latest 75-inch vertical display is a big upgrade from before.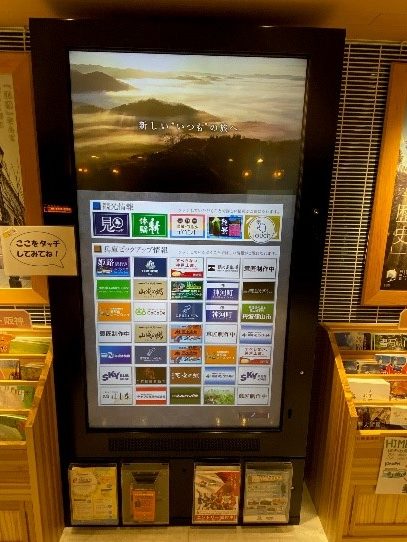 The big screen
Promotional movies of Hyogo tourist attractions are shown on a large, powerful 85-inch screen. Catch details you might have missed before and rediscover the charms of Hyogo.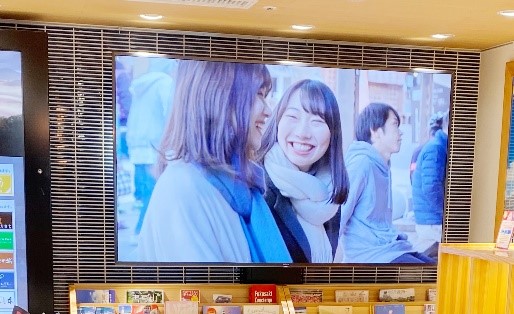 Tablets
Look up information on your favorite tourist attractions in Japanese, English, Chinese (simplified and traditional) and Korean. You can also enjoy Hyogo Prefecture's tourism promotion videos.
Exhibition of Hyogo's local products
A total of seven types of pottery and lacquerware from "United Gokoku of HYOGO" (Five areas in Hyogo, namely Tajima, Harima, Tamba, Kobe/Hanshin, and Awaji) are exhibited under the theme of "Vessels of Hyogo." Also, check out the straw covered sake barrels currently on display to commemorate the designation of the "Itami and Nada Gogo" area (home of INFORMATION Hyogo/Kansai) as a Japanese heritage site.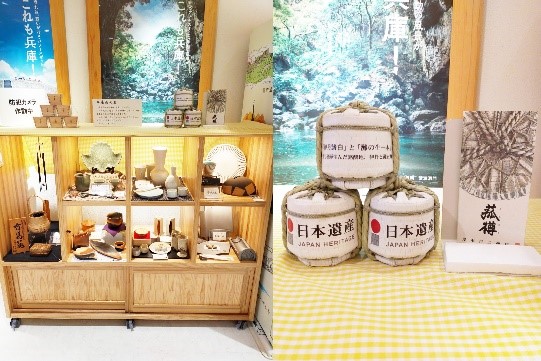 Hyogo specialty vending machine
Hyogo's outstanding specialty goods, including 5-star Hyogo products, are on sale here. The line-up of delicacies and crafts changes each season.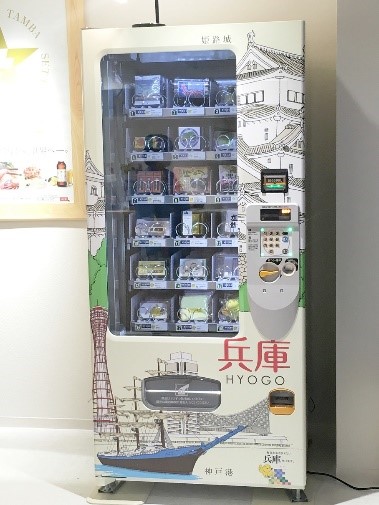 CHARGE SPOT
Use the "borrow anywhere, return anywhere" mobile battery charger rental service for 150 yen per hour.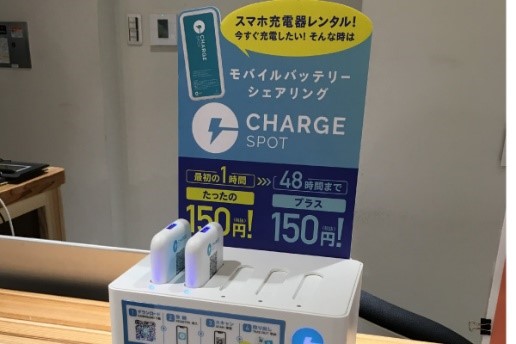 Gashapon: Say Hello to My Little Friend
Jump into the "Gashapon" capsule toy culture. Enjoy popular characters and limited time event prizes. It's a great way to use up some spare change!