In the language of flowers, Dahlias, a member of the Asteraceae genus, have come to mean "splendid"and "graceful".From July to October, they bloom in a wide variety of not only colors but also petal shapes. Many may not know that beautiful fields of dahlias can be enjoyed in the northern Hanshin area.Let's look at two spots to view this much-admired flower in the region!
Takarazuka Dahlia Garden (Takarazuka City)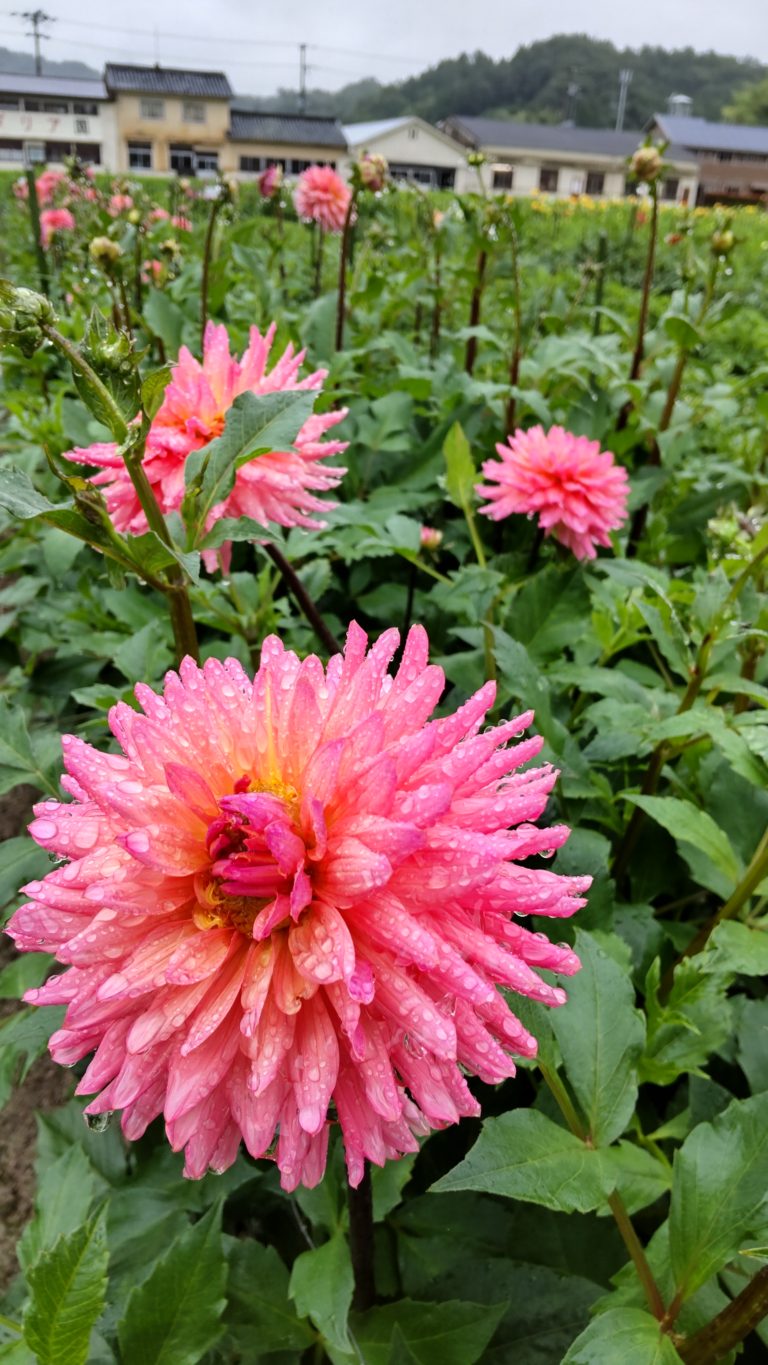 Takarazuka Dahlia Garden is in the Kamisasori district in northern Takarazuka City and is known as one of the leading dahlia bulb production areas in Japan. Here, only during the summer and autumn, them Sasori Gardening Association opens the dahlia bulb cultivation fields for viewing. You can see 100,000 dahlias of about 300 varieties.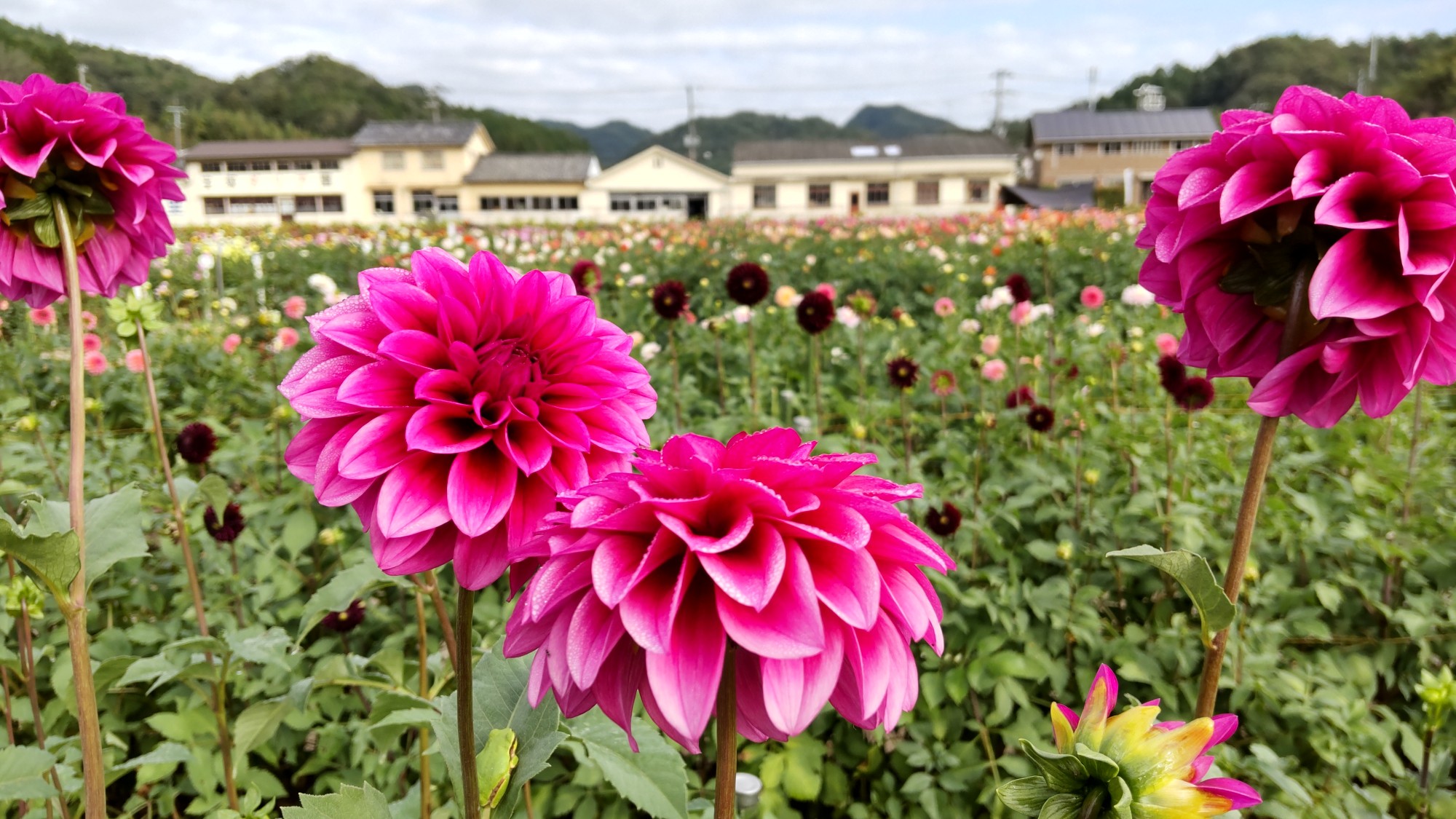 Dahlia cultivation in the Kamisasori area has a long history of more than 90 years. At first, in 1930, some local residents started cultivating dahlia bulbs, and eventually the Sasori Gardening Association, which now operates the dahlia garden, was established in 1935. In the late 1960s, cultivation peaked at an annual production of about 3 million dahlia bulbs, mostly exported.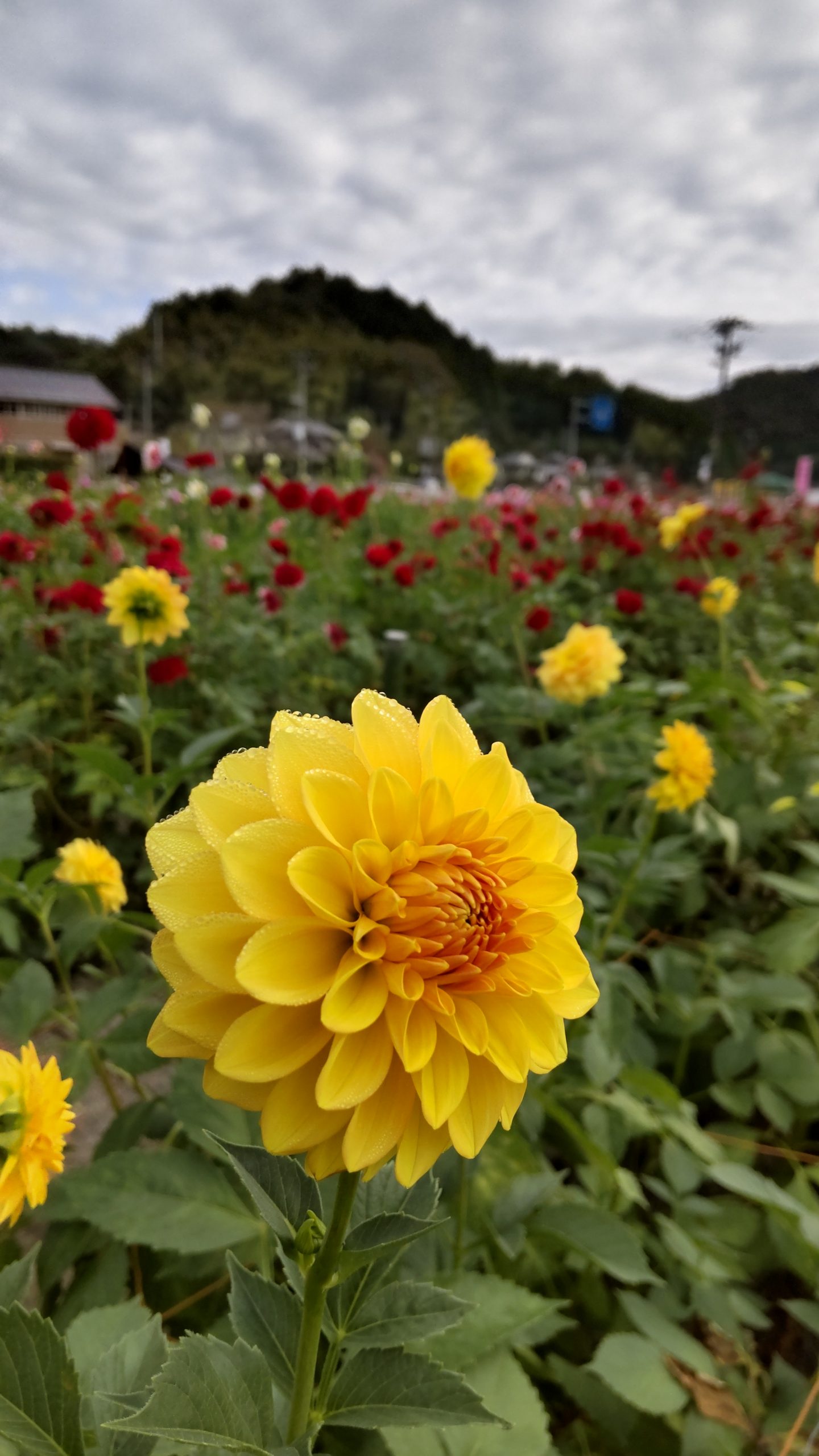 In March 2021, the Dahlia was newly selected as the City Flower of Takarazuka City. Come to the Takarazuka Dahlia Garden and enjoy these beautiful blooms in Kamisasori, where their history can be appreciated. You can also pluck dahlia flowers for 100 yen each!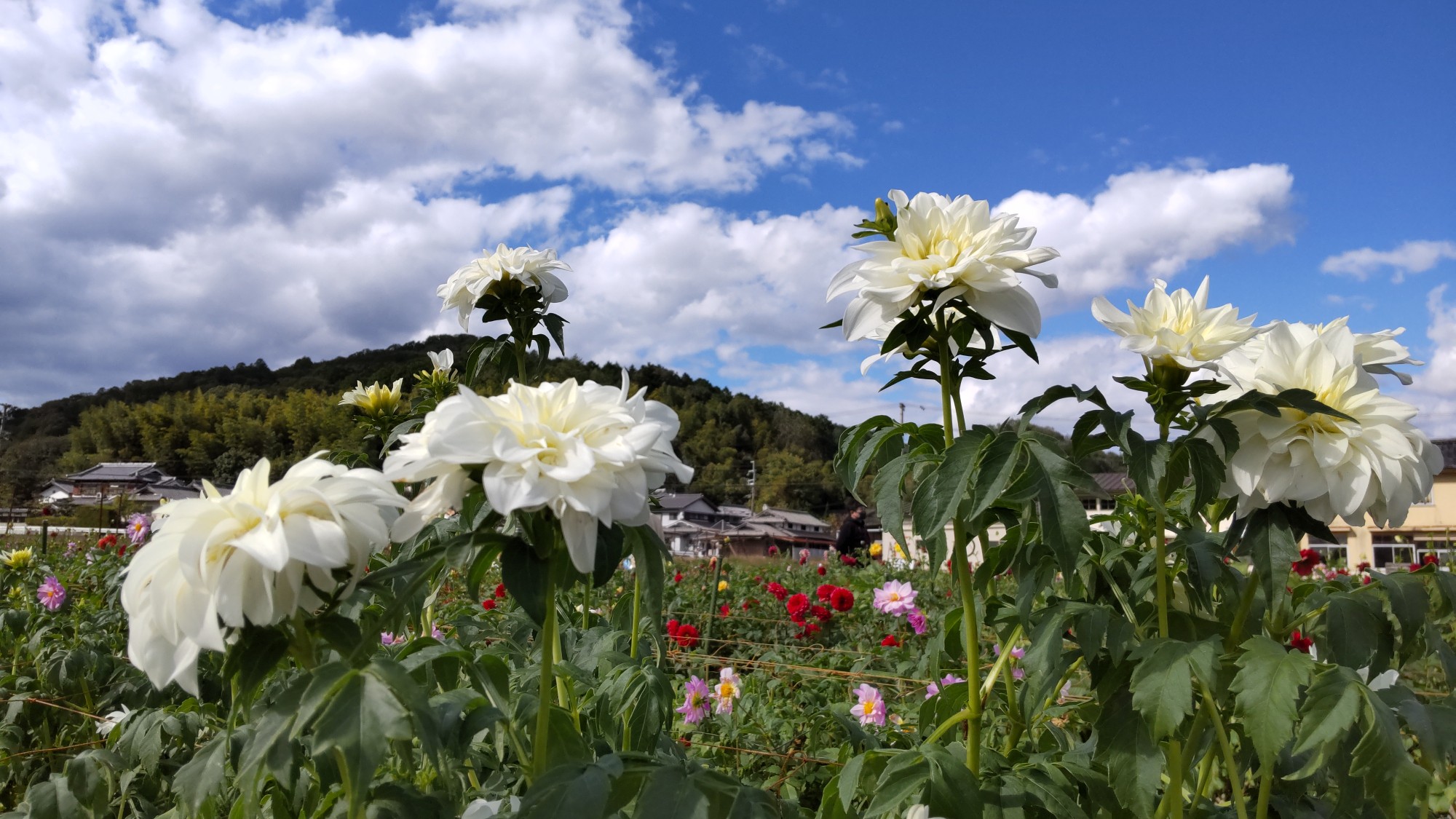 Address: 16-1 Ogakiuchi, Kamisasori, Takarazuka City, Hyogo
Access: From JR Takedao Station, take the Hankyu Bus to Kamisasori stop
Open hours: 9 a.m. to 4 p.m. (admission until 3:30 p.m.)
Admission fee: 200 yen for adults, 100 yen for children (free for preschool-aged and under)
Inquiries: 0797-91-0003 (Sasori Gardening Association: https://dahlia-takarazuka.jp/)
* Please confirm the open season in advance.
"For related articles"
For more on what Takarazuka City has to offer, check here!
https://visithanshin.jp/enews/1473/
For other great spots in Takarazuka City♪
https://visithanshin.jp/en/area/takarazuka/
Kurokawa Dahlia Garden (Kawanishi City)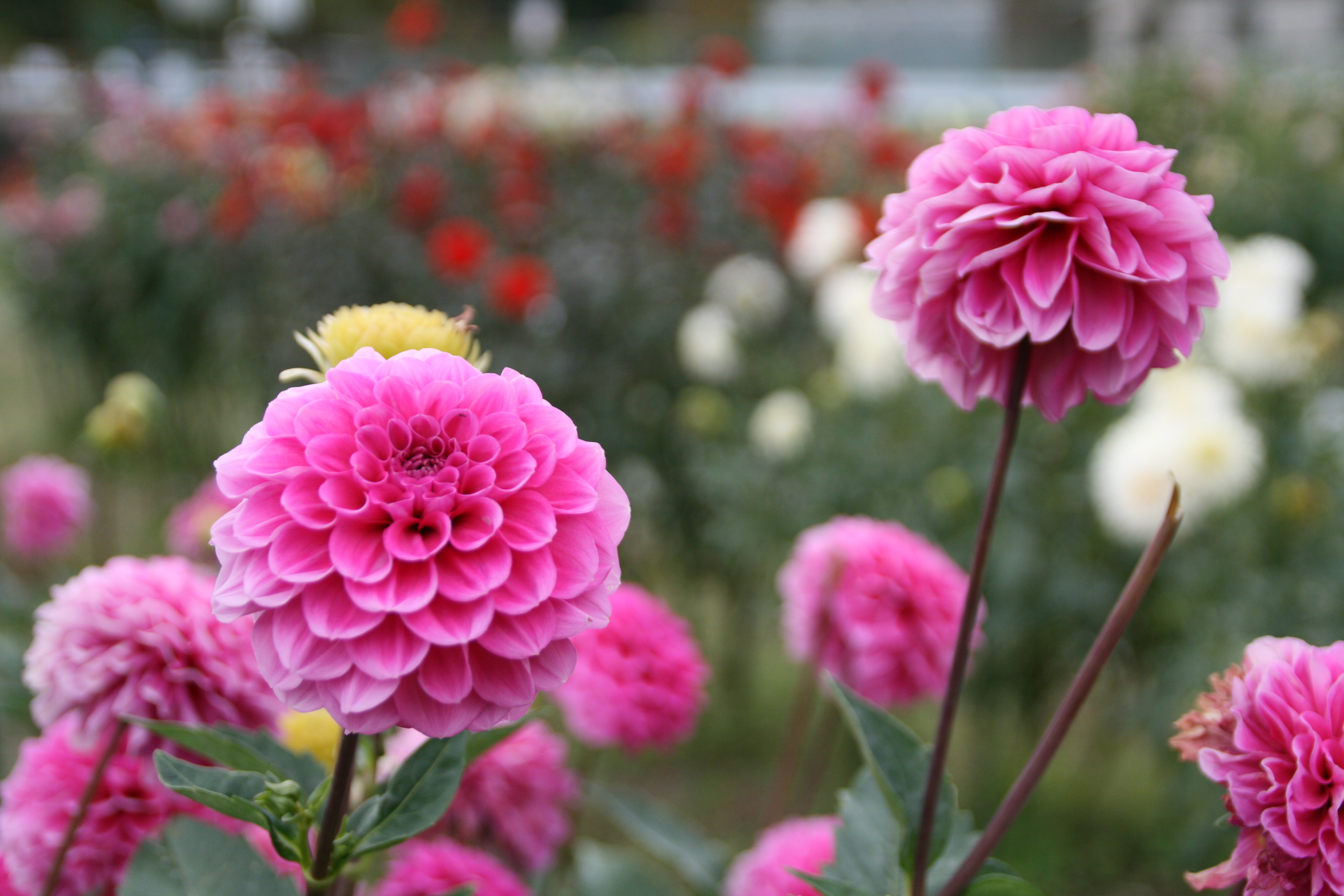 Around 1,000 dahlias of 360 varieties are in full bloom (as of October 2021) in the Kurokawa Dahlia Garden, opened in 2015 in the southeastern Hyogo Prefecture area of Kawanishi City. The creation of the Kurokawa Dahlia Garden was sparked by another town in Yamagata Prefecture with the same name, "Kawanishi." This Yamagata's Kawanishi Town is where Japan's first dahlia garden was created and it remains one of the leading dahlia towns nationwide. The flower became a source of exchange between Kawanishi City and Yamagata Prefecture's Kawanishi Town in 1997 at the National Kawanishi Conference, a gathering of towns named "Kawanishi" from all over the country. On that occasion, bulbs were gifted by Kawanishi Town, and have since flourished, giving rise to the present Kurokawa Dahlia Garden.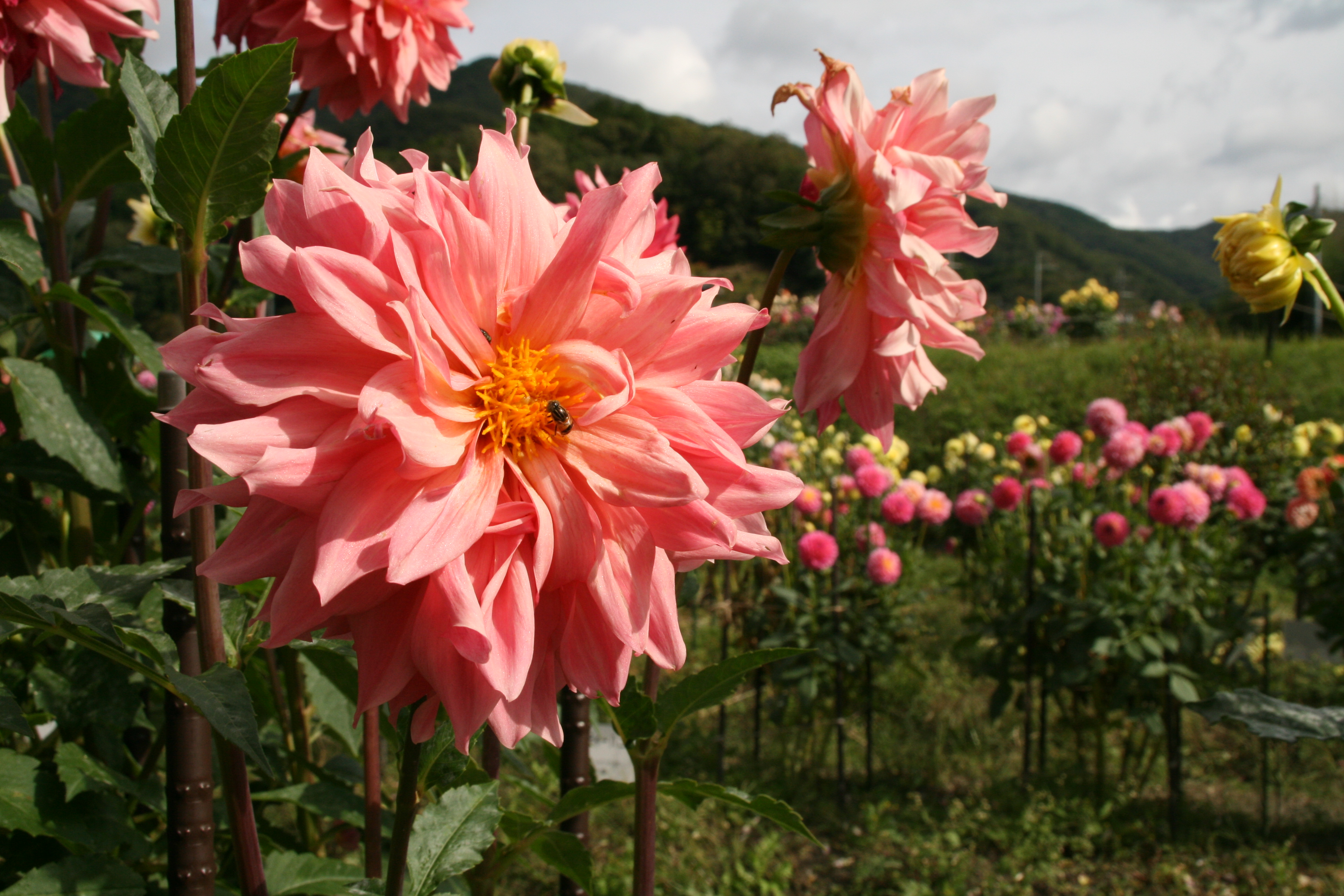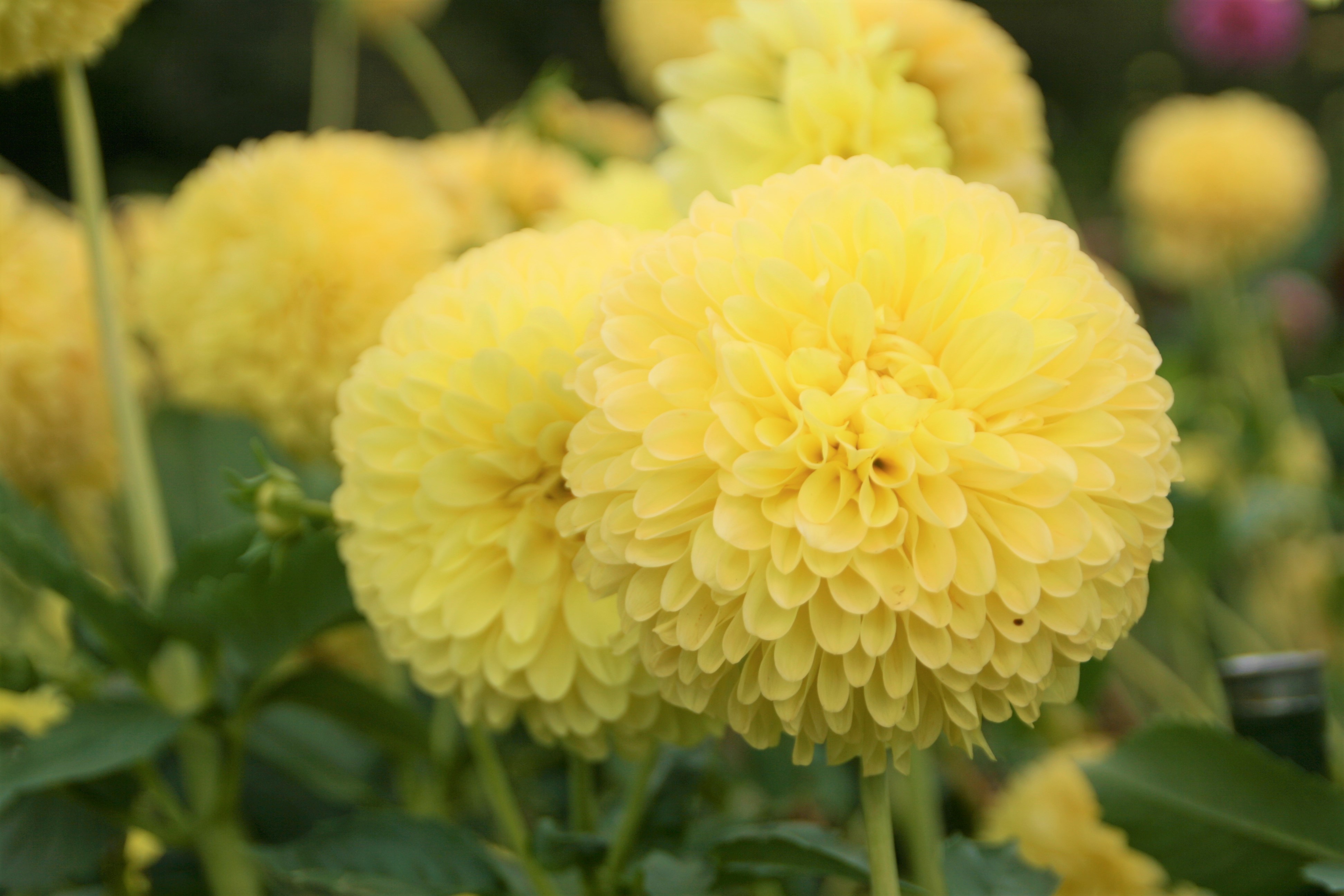 These days during the flowering season, the Kurokawa Dahlia Garden is filled with visitors. Each variety of Dahlia has its own expression, often given a unique name that reflects its appearance. Take a close look at each one and discover the dahlia you love!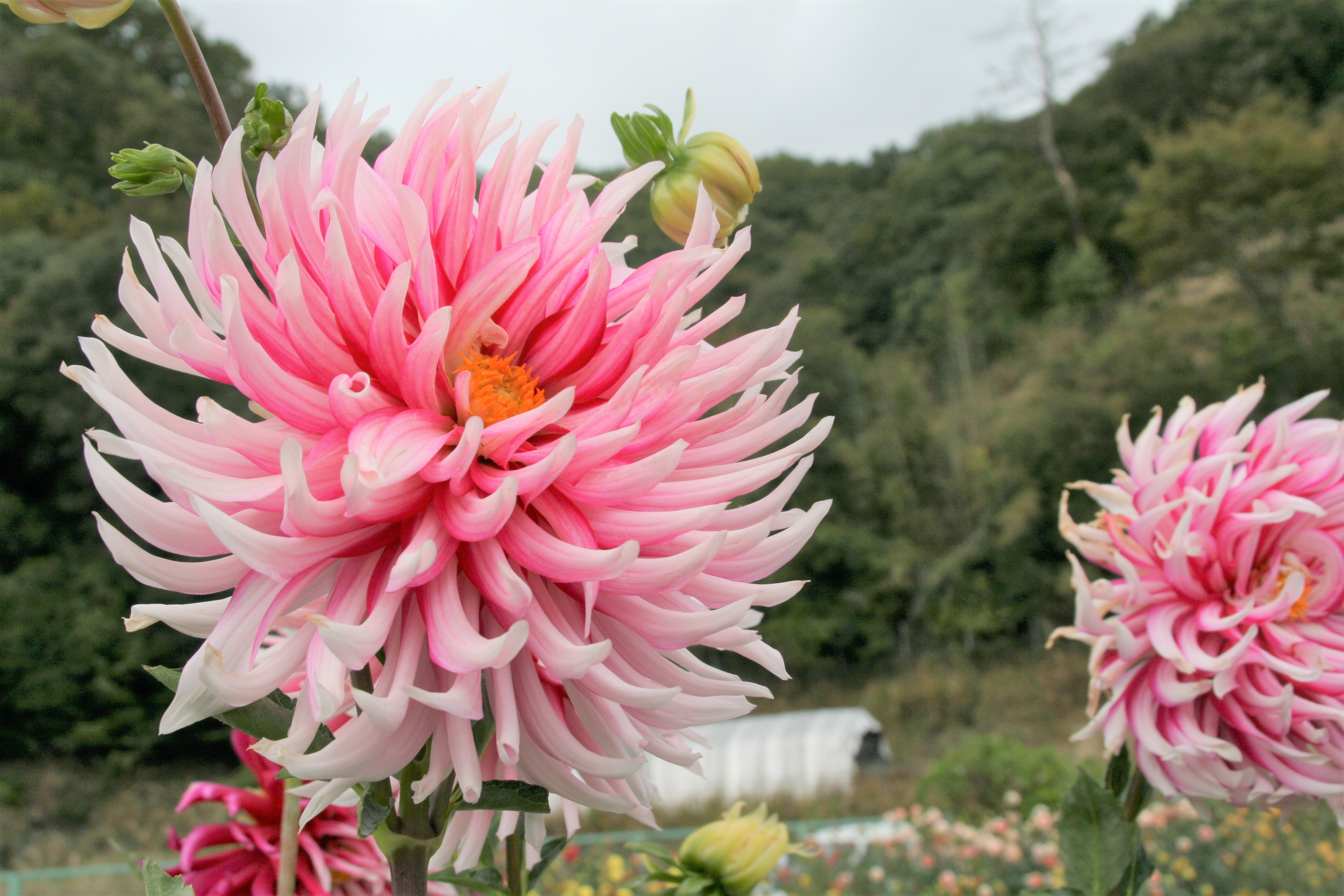 Address: 389 Ochiai, Kurokawa, Kawanishi City, Hyogo
Access: From Nose Electric Railway Myokenguchi Station, take the direct bus (Hankyu Bus, for a limited
time), 11 minutes.
*Direct buses operate only on Sundays and holidays
Operating hours: 9 a.m. to 4 p.m.
Admission fee: 300 yen for adults (used for an environmental improvement cooperation fund)
Inquiries: 072-702-7830 (Kurokawa Dahlia Garden)
https://www.city.kawanishi.hyogo.jp/kurashi/kurashi/midori/dariyaen/
* Please confirm the open season in advance
"For related articles"
For more on what Kawanishi City has to offer, check here!/
https://visithanshin.jp/enews/2159/
For other great spots in Kawanishi City♪
https://visithanshin.jp/en/area/kawanishi/